Mille Gradi – a wine fit for Grimaldi's Pizza
While we have mastered pizza, we wanted to provide our guests with only the best culinary experience, which includes having the perfect wine to pair with any of our dishes. Out of our passion for perfection, Mille Gradi was born.
When translated, Milli Gradi means "1,000 Degrees"- a nod to our famous coal burning ovens that reach 1,000 degrees to create the perfectly crisp crusts you know and love. Our pizza and wine really do come together to create the perfect culinary duo.
"Naming the wine came easy. A common phrase in Italy is Mille Grazie meaning 'a thousand thank yous.' I like to say 'Mille Grazie for Mille Gradi,'" said Lattuca. "This journey has been one of passion, persistence and hard work. I'm honored to present Mille Gradi to our loyal guests."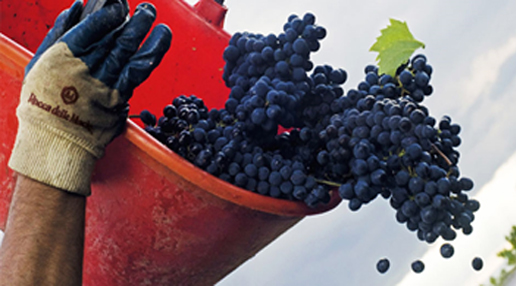 In 2015, our very own Executive Chef Cory Lattuca, along with other expert team members, traveled to Italy to meet with Sergio Zingarelli, estate owner of the Italian Rocca delle Macìe winery nestled in the rolling hills of Tuscany.
"This opportunity was something that Grimaldi's found to complement the authenticity of our brand," said Lattuca. "Our pizzas are inspired by the Italian classic, so it felt right that we travel to Italy and create an Italian blend to pair with our menu."
This unique Tuscan wine was blended exclusively for Grimaldi's with the help of our team and Sergio Zingarelli, of the Rocca del Macie estate in Castellina Chianti. After months of research and countless tastings, head winemaker, Sergrio Zingarelli, christened the wine. The garnet wine is produced from three varieties of carefully selected and ripened grapes– sangiovese, syrah and merlot–for a smooth finish, sure to impress any wine connoisseur. They are vinified separately and blended before bottling to preserve the distinctive freshness and the primary aromas coming from the grapes.
"A very versatile wine, it pairs just as exceptionally with Grimaldi's Chef Selection pizza, 'The Don,' as it does the traditional cheese."
Mille Gradi is light enough to pair with our Mediterranean Salad or a board of our Bruschetta Trio while its robust character pairs perfectly with our Traditional Pizza, topped with our secret recipe tomato sauce, hand sliced mozzarella, signature cheese and spice blend.