The Grimaldi's Concept
Our award winning concept is built around our signature, New York style pizzas, which are made using only premium ingredients and an over 100-year-old pizza-making tradition that uses coal-fired brick ovens. Our custom built coal-fired brick ovens are the center stage in each restaurant where our pizza makers work in an open kitchen to create an entertaining and truly authentic New York pizzeria experience for our guests.
Along with our hand-crafted pizzas and calzones, we offer an array of freshly made salads and appetizers, decadent house-made desserts and a premium bar, complete with a curated wine list and our signature Tuscan red blend, Mille Gradi. The combination of our award-winning menu, pizza-making history and inviting New York themed atmosphere is what sets the Grimaldi's concept apart from the rest and makes our brand so exceptional.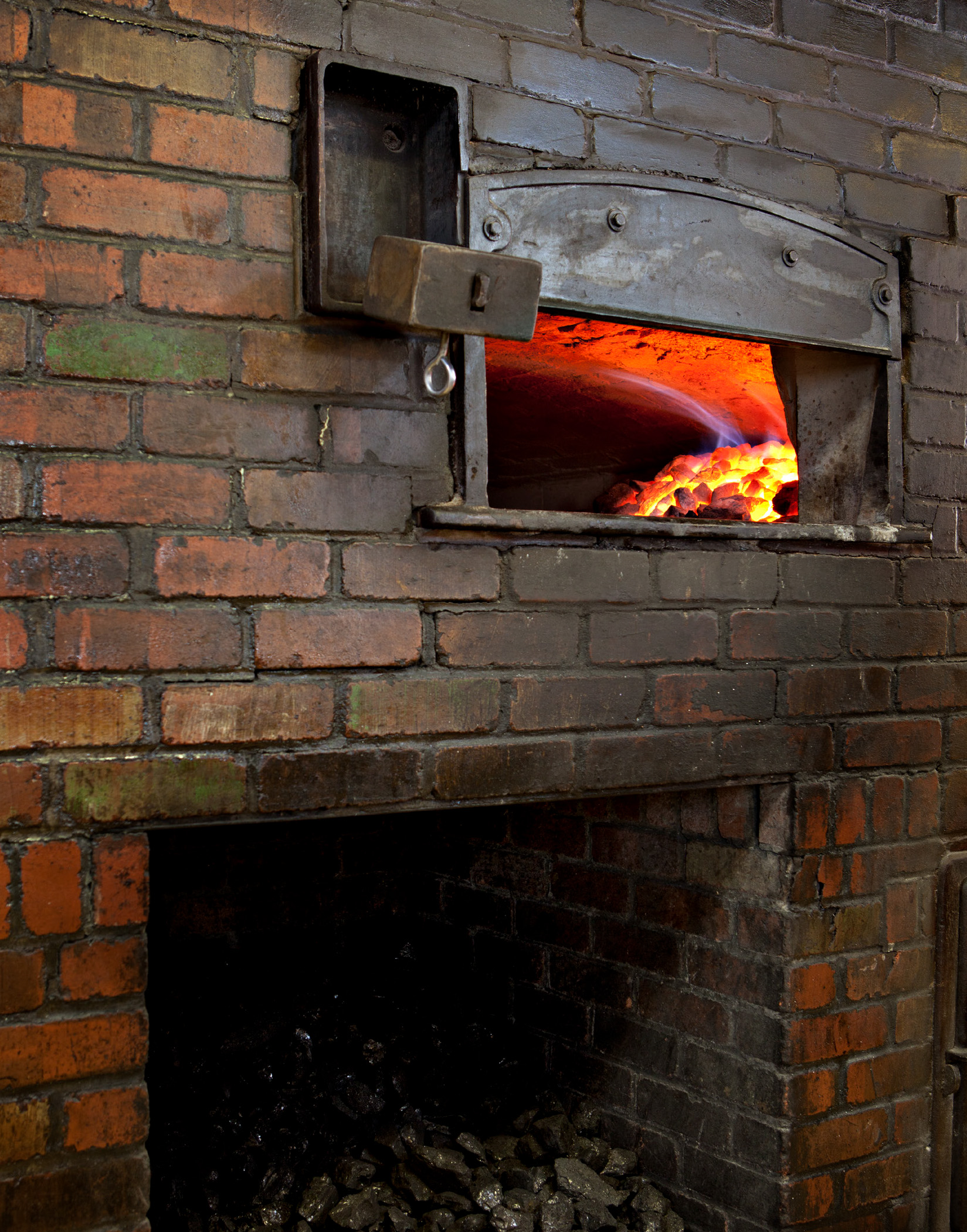 Our Signature Coal-Fired Brick Oven
Built by hand, our signature coal-fired brick oven bakes our pizzas and calzones to perfection while delivering a tantalizing aroma and unique flavor that is just not possible from gas, convection or wood ovens. The intense heat of the oven evenly bakes the pies to create Grimaldi's famous crispy and smoky crust that keeps friends and families in neighborhoods across the country coming back time and time again.
The Pizza That Made The Brooklyn Bridge Famous™
Our story begins in New York City in the late 1800s. According to lore, an Italian immigrant baked coal-fired brick oven pizzas in a small Brooklyn bakery and transported them to Manhattan to be sold. New Yorkers went crazy for the new creation and the love for coal-fired brick oven pizza was born. At the time, regulations made it impossible to construct a coal oven in Manhattan, so New Yorkers eagerly crossed the Brooklyn Bridge to eat their new favorite food.
Grimaldi's has stayed true to the authentic pizza-making traditions that began over 100 years ago. Today, at the base of the Brooklyn Bridge, Grimaldi's serves delicious coal-fired brick oven pizza as close to the original as you can find anywhere. Every pizza at Grimaldi's is hand stretched, topped with savory sauce and fresh, hand sliced mozzarella, then cooked to perfection in Grimaldi's signature coal-fired brick oven. Staying true to this New York pizza-making tradition is what gives Grimaldi's pizza its award-winning taste.
While you can still make the trek across the bridge from Manhattan to Brooklyn and find Grimaldi's pizzaiolos making the world's best pies, pizza loving families can visit Grimaldi's Pizzerias all over the United States. While there is no doubt that the Brooklyn Bridge is an icon, we all know what really made it famous…Grimaldi's Pizzeria.
Culture
Grimaldi's Pizzeria has built a strong culture based on our "8 Slices of Culture." Our culture in combination with our key ingredients--People, Product and Service--are the driving forces in how we operate, make decisions and interact with one another. Our culture extends outside of our restaurants in supporting our communities through organizations like Childhelp and No Kid Hungry.
8 Slices of Culture
Integrity
Quality
Hospitality
Communication
Energy
Family
Accountability
Teamwork
Awards & Accolades
Our coal-fired crust, fresh ingredients, hand sliced mozzarella and authentic pizza sauce have made us an award-winning pizzeria across the United States.
Franchising
Our proven family friendly New York style pizzeria concept is already enjoyed by pizza lovers across the United States. With best-in-class culinary offerings, we are positioned to deliver our exceptional guest experience to neighborhoods across the nation by awarding Franchise Agreements and Development Agreements to franchisees who are in those markets.
Franchise Support
We have an experienced leadership and management team poised for growth and prepared to provide you with the ongoing support you will need to own and operate a Grimaldi's Pizzeria franchise. We have developed and refined our restaurant operating systems and processes, providing our franchisees with a road map and hands-on support for the successful execution of the Grimaldi's brand.
The following are just some of the tools and resources provided:
Site selection
Construction and build out
Comprehensive training program
On-site opening support
Ongoing operations and marketing support
Certified training stores throughout the U.S.
Our Ideal Franchisee
Business acumen and previous business or management experience
Committed to treating guests and associates with the highest ethical standards
Desires to be involved in their local community
Passionate for the foodservice industry and the drive to be involved in the daily operations
Restaurant operators looking to expand their local market share or successful franchisee groups seeking to diversify their portfolio
Franchise Opportunity
The following tables present information about the historic annual sales of 42 Company-Operated Grimaldi's Restaurants that were open during the entire 2020 calendar year.
TTM Gross Sales

Jan 1, 2020 - Dec 31, 2020

Tier 1

Top Third

Tier 2

Middle Third

Tier 3

Bottom Third

# of restaurants
14
13
14
Average Gross Sales
$2,861,801
$2,238,375
$1,460,612
Range of Gross Sales
$2,465,787 – $4,004,548
$1,983,260 – $2,446,084
$1,084,714 – $1,876,429
Median Gross Sales
$2,831,586
$2,255,242
$1,480,025
# and Percentage of Restaurants in each Tier at or above Average Gross Sales
6/43%
7/54%
7/50%
TTM Gross Sales

Jan 1, 2020 - Dec 31, 2020

Tier 1

Top Two Thirds

Tier 2

Bottom Two Thirds

# of restaurants
28
28
Average Gross Sales
$2,537,162
$1,857,616
Range of Gross Sales
$1,876,429 - $4,004,548
$1,084,714 - $2,465,787
Median Gross Sales
$2,455,936
$1,929,845
# and Percentage of Restaurants in each Tier at or above Average Gross Sales
11/39%
15/54%
TTM Gross Sales

Jan 1, 2020 - Dec 31, 2020

Tier 1

Gross Sales Greater Than $2,500,000

Tier 2

Gross Sales Between $1,750,000 and $2,500,000

Tier 3

Gross Sales Less Than $1,750,000#

# of restaurants
12
18
11
Average Gross Sales
$2,925,281
$2,195,828
$1,362,218
Range of Gross Sales
$2,527,124 - $4,004,548
$1,751,100 - $2,496,063
$1,084,714 - $1,593,809
Median Gross Sales
$2,851,732
$2,233,669
$1,333,388
# and Percentage of Restaurants in each Tier at or above Average Gross Sales
4/33%
10/56%
5/46%
*This data is from Item 19 of our 2021 Franchise Disclosure Document.
Franchise Facts
Q: Question: What steps do I need to complete to franchise restaurants with Grimaldi's Pizzeria?
Complete an application
Review Franchise Disclosure Document
Perform due diligence
Attend Discovery Day
Receive franchise award
Sign a Franchise or Development Agreement
Secure a location and build out
Train
Open your restaurant
Q: Question: What is the total initial investment range?
Q: Question: What are the recurring royalties and marketing fees?
Our royalty fee is 6% and our brand fund fee is 2% of gross sales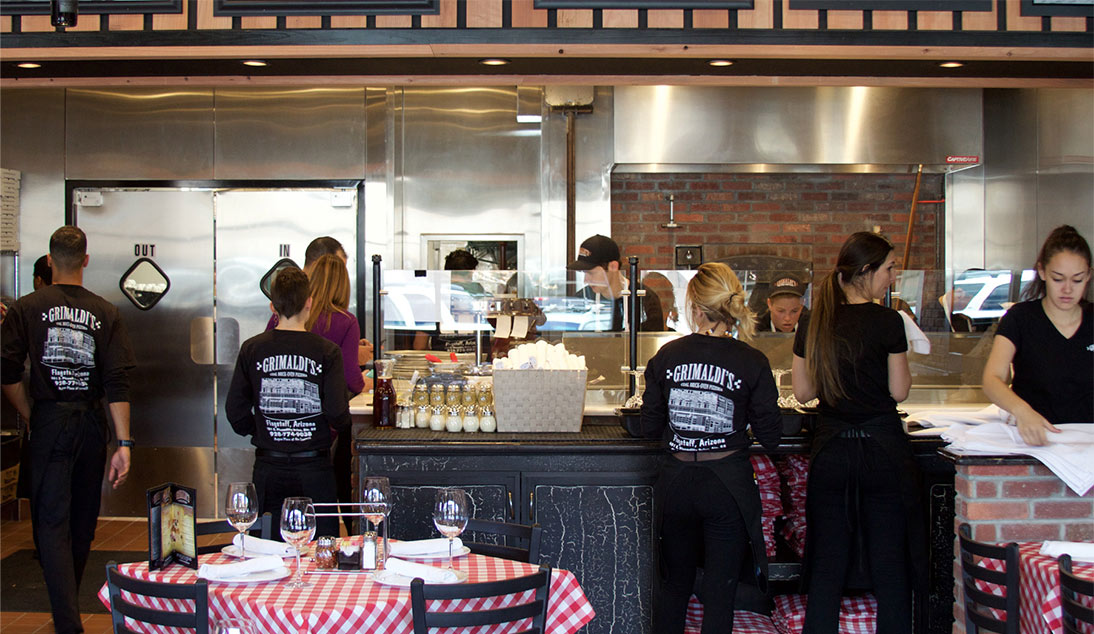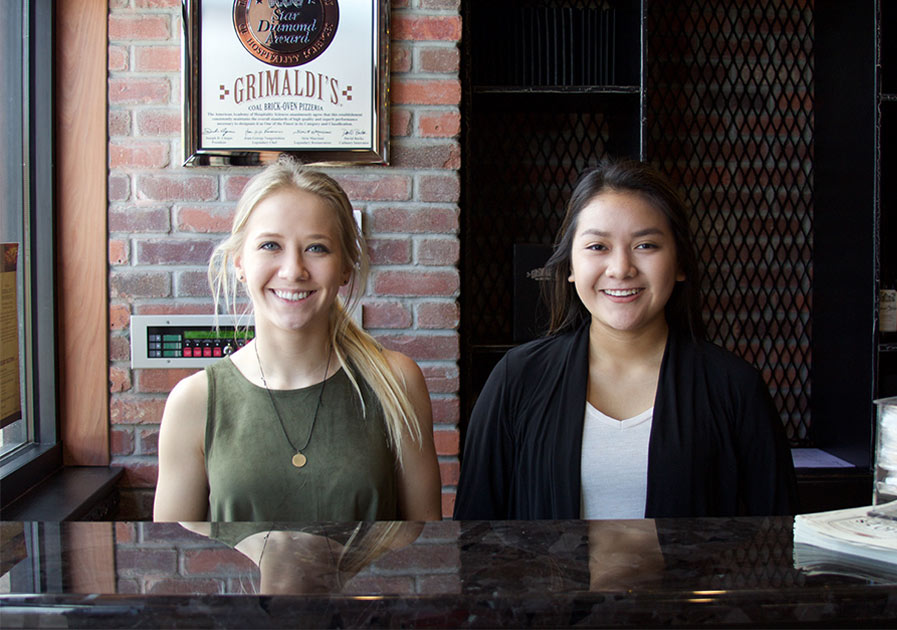 Locations
Currently, we own and operate 42 Grimaldi's Pizzerias in 11 states. Our goal is to bring Grimaldi's authentic New York style coal-fired brick oven pizza to pizza lovers across America. We continue to own and operate company stores to sharpen our competitive edge and learn from our strong connection with our guests and brand ambassadors who patronize our locations daily across the United States.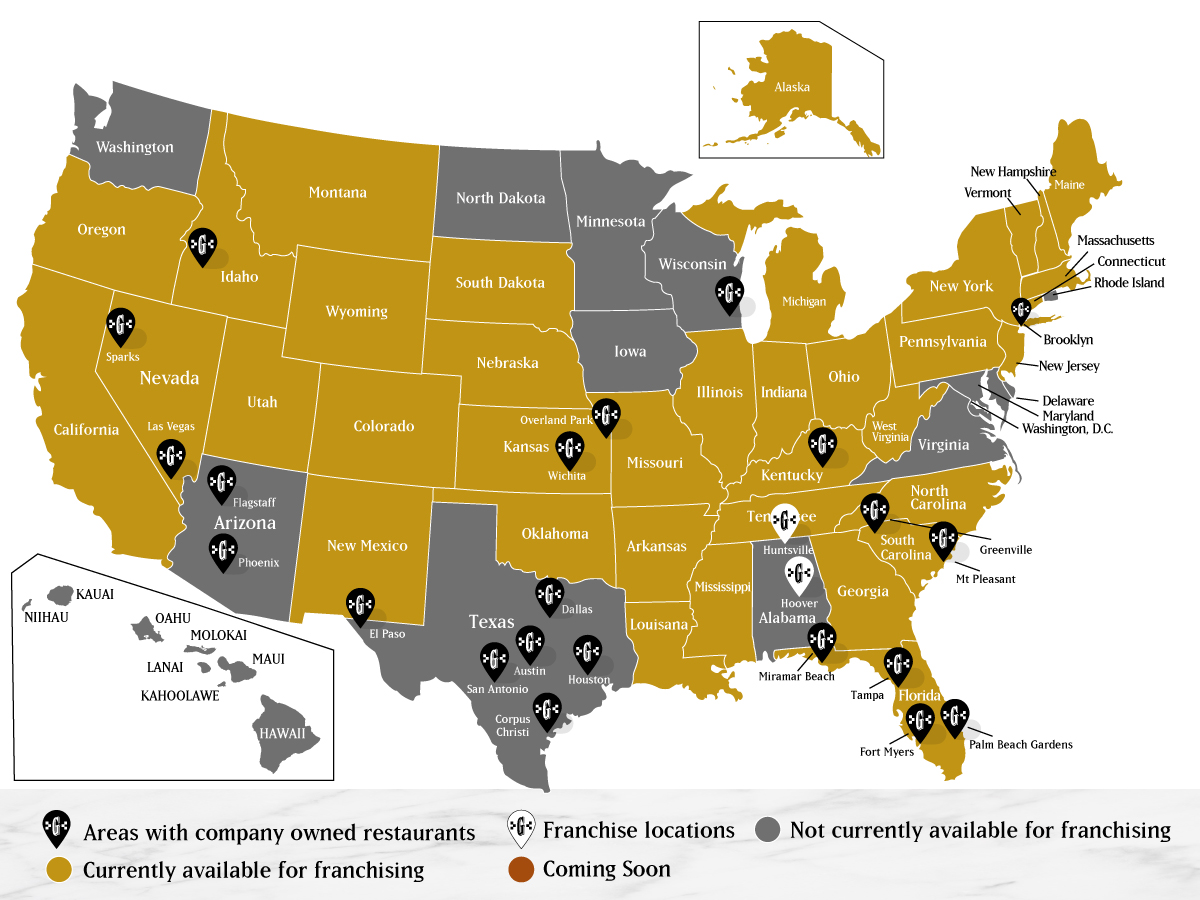 Real Estate
Start with an outstanding site, add a red-hot concept and everybody wins! Grimaldi's Pizzeria is a destination location that drives both traffic and excitement. So what do we look for when choosing our premier sites?
The Ultimate Space
3,200 - 3,800 square feet, including 1,000 square foot patio
Up to 4-6 parking spaces designated for take-out customer parking
Highly visible endcap within outdoor lifestyle center; urban venues will be considered
Highly visible monument or directional signage
High traffic, premium multi-tenant development with a strong community appeal
The Ultimate Demographic
Population of 75,000 within the trade area
Frequent visits by guests ages 25 - 50
Median household income of $75,000 or more
The Ultimate Neighbors
Movie theaters
Full-service restaurants
High-end outdoor lifestyle retail
Family entertainment venues
The Ultimate Facility
HVAC: 1 ton per 125 sq.ft.
Electrical: 400 amp service – 120/208 V, 3 phase 42 breaker panel (400 amp minimum)
Water: 1.5" minimum tap
Oven: The pizza oven without the footing weighs approximately 28,000 pounds with an 8' x 10' footprint
The oven flue pipe must have direct access to the roof
Interior Features
With Frank Sinatra crooning in the background, Grimaldi's offers guests a traditional pizzeria experience in a modern loft-like interior. The combination of red-and-white checkered tablecloths, red brick, and a mix of redwoods and corrugated steel bring to life an urban, yet family friendly atmosphere. Our custom signage harkens back to our New York roots, while our custom wine bottle chandeliers provide a stunning backdrop to our already unique dining experience.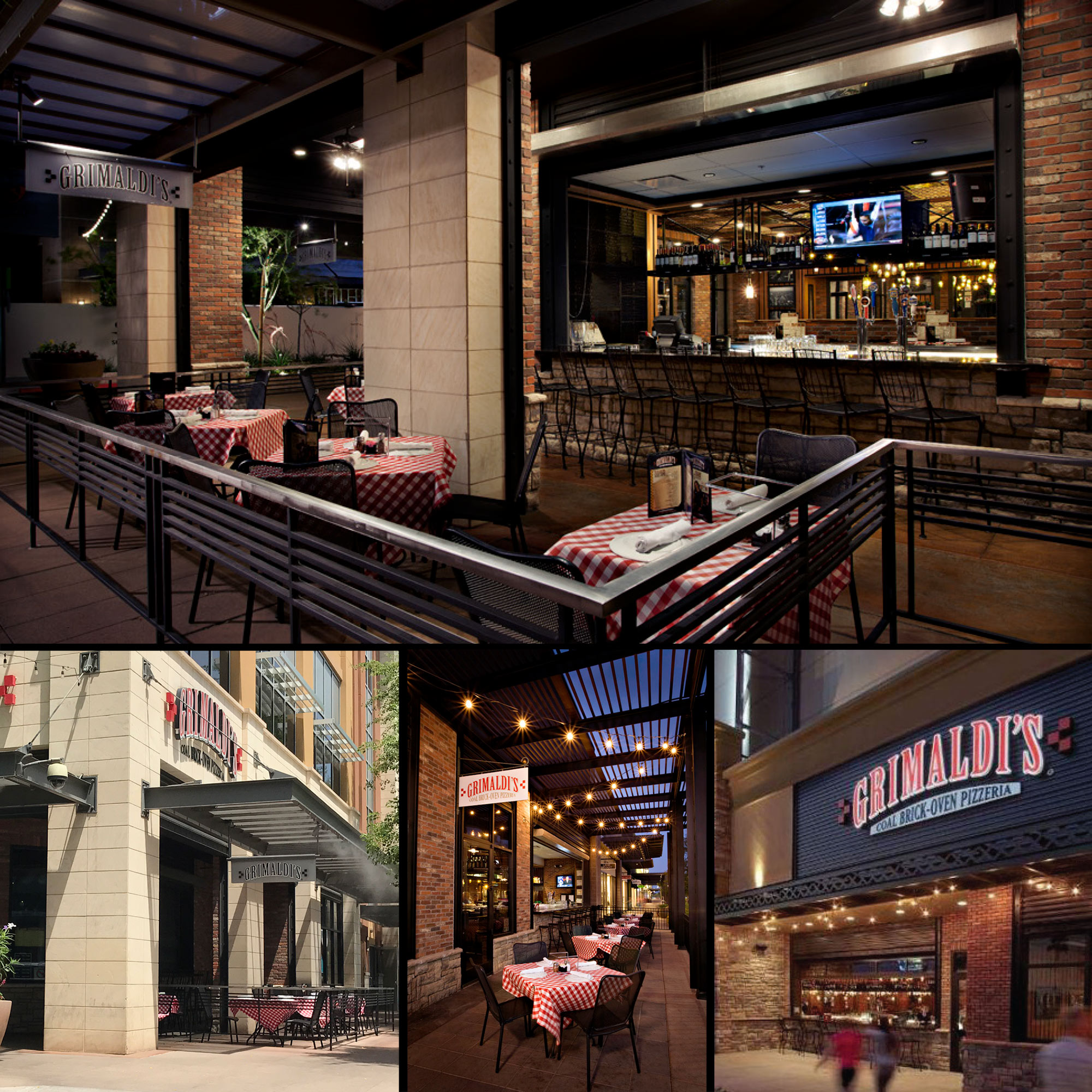 Exterior Features
Continuing the contemporary look of the interiors, Grimaldi's exteriors consist of a mix of stone, steel and brick, which provides a warm, recognizable facade for our locations. These finishes allow Grimaldi's Pizzeria to fit and blend well with a variety of shell building structures and finishes. One inviting element of our Grimaldi's exterior is the interior/exterior bar top. This area of the exterior has a granite bar top with a sectional roll-up door, allowing the exterior patio seating area to be an extension of the inviting interior environment.
In Summary
Disclaimer: The information in this booklet is not intended as an offer to sell, or the solicitation of an offer to buy, a franchise.
It is for informational purposes only. Please contact us if you have any questions.
© 2021 CBOP Domestic, Inc. All rights reserved.